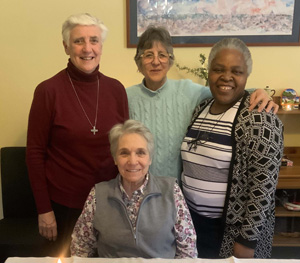 Every six years the Holy Union Sisters gather to elect a Superior General and Councilors from among their members. The Superior General has primary responsibility for the Congregation worldwide. Together with her Councilors, she is called to inspire, unify, and guide the Congregation in faithfulness to its mission. With the Gospels as its guide, the General Council strives to stimulate the apostolic vitality of the Congregation.
The members of the General Council in the photo are standing: Srs. Teresa Finn, Ilsa Jofre, and Caroline Njah . Seated is Sr. Paula Coelho, Superior General. Coming from four different countries, these sisters reflect the internationality of the Holy Union: Sr. Paula: USA, Sr. Caroline: Cameroon, Sr. Ilsa: Argentina, Sr. Teresa: Ireland.
At the 2017 General Chapter or Collegial Assembly, the delegates formulated a Vision Statement. During its mandate, the General Council works to implement this vision statement throughout the Congregation.