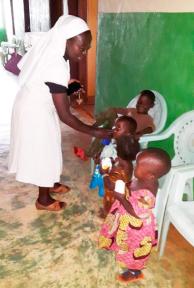 In the Global Sisters article, Sr. Josie traces the development of the sisters' healthcare work in the village of Baba in the Northwest Region of the country. Despite the political unrest which has destabilized this part of Cameroon, Sr. Josie, and other Holy Union Sisters have continued to serve the women and children of the village which has a population of thirty-five thousand people. They have worked with the women to address issues of nutrition, hygiene, and health care. In support of these women in many ways. Sr. Josie believes that in all her actions, she is being faithful to their charism of union.
Click on this link to read the complete article, which is in English. You can translate the article into French and Spanish by clicking on the TRANSLATE

box at the top right.
Reproduit avec l'autorisation de Global Sisters Report/NCR Publishing Company www.NCROnline.org
Reprinted by permission of Global Sisters Report/NCR Publishing Company www.NCROnline.org