In September, Sisters Nadine Nametlop, Francisca Lamnteh and Julliet Ayori Mbinkar made their perpetual commitment as Holy Union Sisters in Bare, Cameroon. Sisters from throughout the country as well as family members and colleagues shared in the celebration. Sister Caroline Njah, recently elected Superior General, received the vows of the sisters on behalf of the Holy Union Congregation. She was joined by Sister Yvette Sam who will serve as a General Counselor for the Congregation.
You can read more about each sister and view a photo gallery of the ceremony and reception.
 

Sister Nadine Nametsop comes from Mbouda in West Cameroon. She first met the Holy Union Sisters in in the novitiate house in Baré. Initially she was attracted by the cookies, juice and sweets that the sisters offered to young visitors. As she grew older, she continued to visit drawn by the laughter of the sisters. She gradually felt a desire to become like them and became a postulant in 2011.
After her first vows, Sr. Nadine studied at the Institut Supérieur de Traduction d'Interprétation et de Communication in Yaoundé, and graduated with a degree in Trilingual Applied Translation in French, English and Spanish.
What motivates Sr. Nadine to dedicate herself entirely is the knowledge in good times and bad, God has always accompanied her on her journey to follow Christ. She is grateful to all the Holy Union Sisters who have supported her on this journey.
The words of Scripture: "Here I am, Lord, send me." have led her to join the Holy Union Sisters in Argentina this coming year to serve God's people there.    

Sr. Francisca Fanwong Lamnteh comes from Kumbo and is the 2nd of five children in her family.  When she first met the Holy Union Sisters in Kumbo, the name of their congregation was new to her, and she wanted to know more about the sisters. She experienced a warm welcome from the sisters at St. Augustine College and was invited to a "live in experience".
After completing secondary school, she entered the novitiate in Baré in 2012. Although her first ministry was teaching, Sr. Francisca felt drawn to care for the sick. She enrolled in the Faculty of Health Sciences in the Catholic University of Central Africa in Yaoundé where she received a bachelor's degree in health sciences in 2022. Since then, she has served as a General Nurse in the Clinical Unit at St Monica Catholic Health Centre in Baba 1 staffed by the Holy Union Sisters. In pronouncing her perpetual vows, Sr. Francisca hopes to live and grow in appreciation of the Holy Union charism of union. She believes that her consecration frees her "…to be in the vanguard of the Church, going where others have not yet gone, doing what others have not yet done of the sake of God's people" Art. 61 Holy Union Constitutions.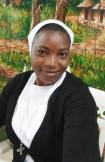 Sr. Julliet Ayori Mbinkar comes from Kumbo in Northwest Cameroon. She is in her final year as a student at the Higher Teacher Training College studying geography. What drew Sr.  Julliet to Holy Union was the simple hospitality of the sisters who taught at St. Augustine College in Kumbo. She began her journey in 2011 and took her first vows in 2015.  Since that time, Sr. Julliet has been a teacher in primary schools in Kumbo, Bare and Massea.  
In pronouncing her religious vows for life, her desire is to share the virtues of union and charity wherever she ministers and lives. She believes life as a Holy Union Sisters is fulfilling and she is happy to be part of this gift to the Church.