On October 13, the anniversary of the birth of the Founder, John Baptist Debrabant, Sisters Fides P. Kimario, Emiliana Mshana and Antonia Msoffe made their perpetual commitment as Holy Union Sisters. The vow ceremony took place at a Eucharistic liturgy where the three sisters were supported by their families and the Holy Union Sisters present. Representing the international Holy Union Congregation, Sister Annmarie Egan, recently elected General Councilor, received each sisters' vows. Auxiliary Bishop Stefano Musomba OSA, presided at the Eucharist. You can read more about each sister and view a photo gallery of the ceremony. 

Sister Emiliana Mshana is from Kilimanjaro Region in the north of Tanzania. She first met the Holy Union Sisters when Sister Annette Farrell visited her family when her older sister, Eugenia, wanted to join the Holy Union Congregation. After she joined Holy Union, Emiliana traveled to Cameroon for her formation and made her first profession in June 2014. She returned to Tanzania and shared community and ministry with the sisters there.  After nine years of life in community as well as prayer and discernment, she believes that with God's grace she can continue to spend the rest of her life as a Holy Union Sister.
Sr. Emiliana has had different ministries since her first profession and is now working at Matumaini Centre where she works with children with disabilities and their families.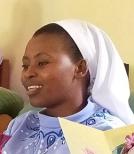 Sister Fides Peter Kimario is from the Kilimanjaro Region of Tanzania. She was considering religious life when she met Holy Union Sisters while a student at the University of Dodoma. The charism of union and reconciliation as well as the simple lifestyle of the sisters led her to consider Holy Union. After she received her Bachelor of Education degree in 2012, Sr. Fides joined the Holy Union Sisters.  Her ministry in Holy Union has been to work with children with disabilities.  She has learned much from these children and tries to be their voice when they need to be heard.  Sr. Fides also seeks to create awareness of the rights of disabled children. After five years as a professed Holy Union Sister, she now wants to commit herself fully to the mission of Holy Union in the Church today.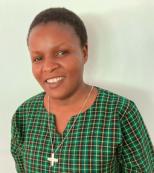 Sister Antonia Msoffe, who was born in Dar es Salaam, is the first-born in her family. She came to know Holy Union Sisters through Sister Eugenia Mshana who visited her village and gave her a brochure about Holy Union. She read the brochure many times and what touched her most was the Congregation's charism of union. When she completed secondary school, she decided to join the Holy Union Sisters. She trained as a Montessori teacher of young children and has been doing this for four years. This past year she followed a formation course in Arusha in the northern region of Tanzania. She attended her first Collegial Assembly in July 2023 where she assisted Sister Michele Totman in preparing the liturgy each day. Sr. Antonia believes she has found her home in Holy Union and desires to make this her home for the rest of her life.