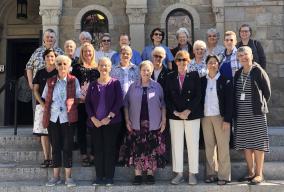 The UNANIMA International Board met face-to-face in       September for the 1st time in over two years. at Thomas Berry   Place in Queens, New York.  Sr. Eileen Davey, a member of the U.S. Province represents Holy Union on the UNANIMA Board. The 23 Member Congregations of women religious have over 22,000 members in 85 countries throughout the world. 
 

2022 Woman of Courage Award Winner: 
Each year UI honors a woman who has exhibited exceptional courage and leadership to make a difference in her community. Nominations are submitted by member congregations, and a vote is held by UNANIMA International's Board of Directors. This year's recipient is Helena Malena Garzon. You can learn more about Helena's work by clicking on this link. 

September Newsletter
In this latest Newsletter, read about Sr. Jean Quinn's meeting in Rome with leaders of member congregations. Holy Union's Access to Clean Water Campaign is also featured in the newsletter. Click on this link to read the September newsletter.