Holy Union Sisters work for Justice, Peace & the Integrity of Creation on many levels. 
In Rome, we are active in the international Justice, Peace and Integrity of Creation Commission of the International Union of Superiors General. General Councilor Sr. Caroline Njah is a member of JPIC and works with sisters in Cameroon and Tanzania on justice issues.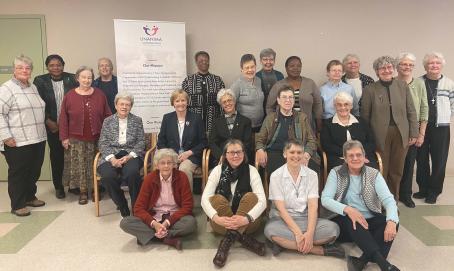 Holy Union Sisters are members of UNANIMA International, a Non-Governmental Organization (NGO) at the United Nations. Twenty-one smaller congregations of women religious have joined together to advocate on behalf of women and children, the homeless and displaced, migrants and refugees and the environment. UI aims to educate and influence policymakers at the global level and work for systemic change to achieve a more just world.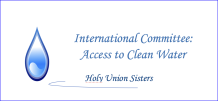 In May 2020 the General Council implemented a mandate from our 2017 Collegial Assembly "to live the urgent call of Laudato Si'," which initiated a corporate response to address the 6th Goal of the UN Sustainable Development Goals (SDG) Access to Clean Water. Sisters from all areas were invited to form an international committee and through the committee to engage all members in this initiative. The goal was a corporate action that would include: Advocacy - education – networking – providing water – conserving water