Our Name…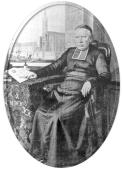 Father Debrabant gave the name Holy Union to his sisters because he desired that deep, mutual affection would characterize Holy Union women. He wanted this union to be as strong as the bond between Jesus and Mary, a reflection of the love that they bore to each other.
Our Incarnational Spirituality…
God's self gift begins in creation and continues in the mystery we call Incarnation, God's intimate union with us in the person of Jesus the Christ. This leads us, Holy Union Sisters, to an incarnational spirituality seeing God's holy presence in all of creation, treating all persons and "Our Common Home" with reverence and respect.
"Faithful to our name and charism of UNION, we seek throughout our lives to deepen our understanding of the mystery of the Incarnation, which impels us to reconcile all in Christ,
'That all may be One'
(John 17:21) Article 2 - Holy Union Constitutions
Our Characteristic Virtues…
Virtue? An attitude that leads to good behaviour   A grace that encourages… holiness
Our "Characteristic Virtues"    
Obedience       Charity            Silence             Simplicity

SIMPLICITY unifies our life; our one desire is to please God. 
From simplicity flows our OBEDIENCE, a constant awareness of being sent to the world in Jesus' name to fulfill God's plan.
By our CHARITY, we are an active presence of God's love.
Through SILENCE and SOLITUDE, we allow the power of the gospel to permeate our lives, and thus, enter more deeply into the mission of Christ.

The Annunciation of the Lord: Each year on March 25th Holy Union Sisters throughout the world renew their vows and celebrate in a special way this Congregation Feast. In 1867, Jean Baptiste Debrabant wrote to his sisters: "We shall celebrate, next Monday, the lovely feast of the Union of Jesus and Mary, which is the special feast of the Congregation."  Jean Baptiste Debrabant, March 23, 1867. 
June 24 ~ The Feast of John the Baptist: John the Baptist was Father Debrabant's patron. In a letter he wrote on June 30, 1874, he advised his sisters: "Take the great Saint John the Baptist, the precursor of our Savior, for your model…"